Roaring 21 Casino Review
Roaring 21 may not necessarily be the first thing that springs to mind when people ask you to name the great casinos of the United States, but that is fine. The company behind Roaring 21 have decades of experience in the casino business, so you know that you are in for a treat when you play at their site.
Introduction: The Look
Interestingly, Roaring 21 have gone for somewhat of a 'back to basics' approach with the look of their site. I haven't seen a site look this basic for years. Not that it is a bad thing. People tend not to head to online casinos to see a wealth of animations, adverts and whatever. They just want to play the games.
On the Roaring 21 site, you will have a tiny bit of information about whatever bonus offer they are running at the time (more on that in a second), some loyalty bonuses (near the bottom of the page) and the most popular games. That is it. However, let's be honest; that is all there really needs to be on a site like this.
The huge benefit of the 'basic' site is that when it is shrunk down onto a mobile device, it still looks just as great as its desktop brother. This is an amazing site through and through.
Browsing the site
Browsing Roaring 21 is as easy as it can be. Everything is neatly laid out, and if you want to search for a game, just use the 'easy to use' categories. There is even a little search bar if you want to find a specific game on the site, although to be honest, since there are not that many games on the site, it is unlikely that you will need to use that.
Managing your account and all that should be easy too. In fact, this is probably one of the easiest to use sites I have seen in the United States.
Casino Bonuses & Promotions
There are a lot of promotions kicking about on Roaring 21. While you have your standard welcome bonus, you will also be able to enjoy several loyalty bonuses. Some may that there are too many loyalty bonuses, and we must admit that this makes things a little bit confusing on occasion.
One thing that we particularly love is that there are several bonuses related to deposit methods e.g. bitcoin and using Mastercard. The latter is especially interesting, because not a lot of online casinos out there have Mastercard-specific bonuses.
If you are going to be playing things other than slots, then the bonuses are not exactly the greatest in the world, because they are very 'slot focused', but most people who gamble online do so specifically for slots so, again, probably not a huge issue.

Game Selection
This is not just a problem with Roaring 21. It is a problem with every online casino in the United States. This is the fact that there is just not a massive selection of games there. This is because the bulk of game companies simply do not want to deal with American online casinos. You can blame tough legislation for that. That being said, there are games covering a variety of different categories including:
Progressive slots
Slot machines
Specialty games e.g. scratch cards, and table games like craps
Table games
Video poker
There are no live dealer options, but there are so few online casinos in the USA which have live dealer games, so we do not see this as much of an issue. The companies that do have live dealer games are nothing to write home about anyway.
There are a few dozen games on the site. Roaring 21 is always trying to add as many as it can do too. However, do bear in mind that the number of games they can add is severely limited by the law and game vendors. Don't blame them if you can't find a game that is available in, say, Europe.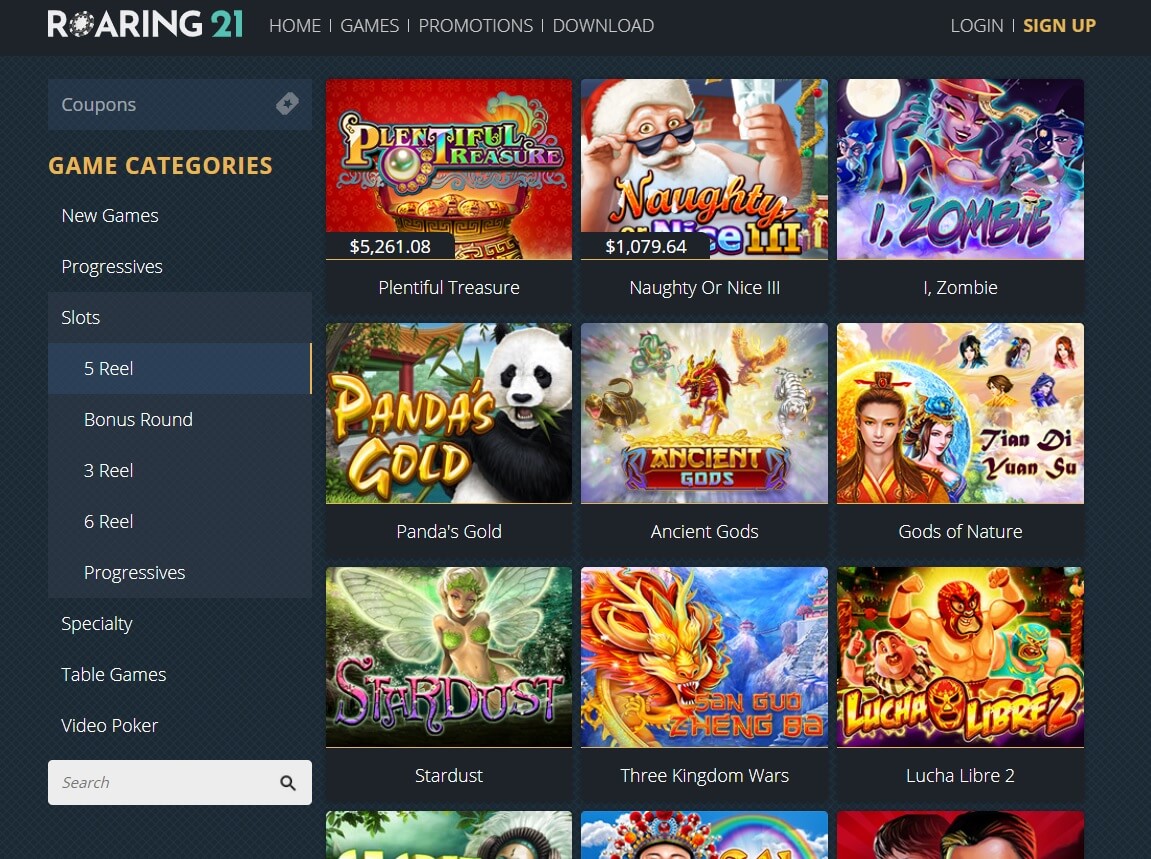 Withdrawal and Deposit Methods
Obviously, you have your standard deposit methods available e.g. bank, debit & credit card. However, there is a lot more on the site too. For example; you are going to be able to deposit into your account using bitcoin. While you can't withdraw in bitcoin, it is nice to be able to deposit in it. Very few online casinos do.
Check out Roaring 21 today
If you want to check out an established online casino which offers a genuinely fun playing experience, why not hop on over to Roaring 21 today?